Chef Master cookware
for exceptional performance,
durability and style
Shop online at The FryOilSaver Company for range of Chef Master Cookware products for sale, from butane stoves to grill brushes and scrapers.
Commercial food service industry professionals trust Chef Master
Chef-Master is widely known as one of the most diverse and reputable providers of restaurant supplies in the commercial food service industry. An established brand and prevalent name in cookware for both indoors and outdoors, Master Chef is trusted by professionals in food service world-wide.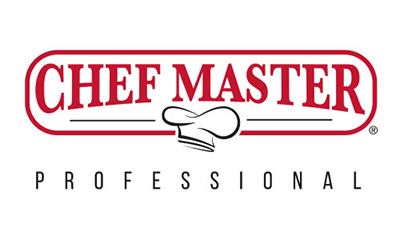 Buy Chef Master online and get
free shipping in the USA
Buy Chef Master signature portable butane stoves, food-warming equipment, whipped cream dispensers, grill brushes and scrapers and more. These are all commercial grade, tough and durable products built for exceptional performance and remarkable style.
Best-Priced Chef Master Products for Sale Online
Chef Master has become a household name in the United States thanks to its extensive line of high-quality gas stoves, utensils, and other outdoor cooking accessories.
Under the Mr. Bar-B-Q banner, Chef Master provides a comprehensive selection of grilling and barbecuing supplies. Grilling tools, brushes, skewers, thermometers, grill covers, fish baskets, can openers and more are all part of their product line. These items are made with barbecue cooks and fans in mind, with the goal of improving their experience at the grill while also adding value to their lives.
Chef Master is committed to providing cutting-edge products that satisfy the requirements of both serious cooks and weekend warriors.  The quality, reliability, and attention to detail of Chef Master goods are consistently lauded.
With its Chef Master brand, Mr. Bar-B-Q, established in 1972, has made a name for itself in the United States, where it is easily accessible to a large customer base and meets the rising need for barbecue and outdoor cooking equipment.
The Importance of Chef Master in the Food Industry
The Chef Master name is widely respected throughout the American restaurant and catering business. When it comes to quality, Chef Master never compromises. To guarantee high quality and long life, they test each product extensively after it has been carefully created from the finest materials. Chef Master regularly delivers high-quality equipment that both professional chefs and home cooks can rely on, such as precise thermometers, durable grill brushes, and cutting-edge cooking utensils.
The company's dedication to innovation is one of the main reasons they've been successful. The constant effort to create innovative kitchen appliances and cooking accessories encourages people to try new things in the kitchen. Chef Master's innovative solutions, which range from sophisticated temperature regulators to novel grilling technologies, provide cooks the freedom to express their individuality while producing delicious, restaurant-quality meals.
Chef Master items are highly regarded because of their diverse product line. They aim to meet the various requirements of professional and amateur cooks alike by stocking a wide variety of products, from standard grilling accessories to more niche offerings. Chef Master provides everything you need to make a home-cooked meal for your family or throw a lavish dinner party for hundreds of guests.
Benefits of Using Chef Master Products
Chef Master's Mr. Bar-B-Q products have several uses in the food service sector, especially in the American tradition of barbecuing outdoors. Some major benefits are as follows:
Chef Master is renowned for its pioneering spirit. Their products frequently include high-tech upgrades that improve the quality of grilling in the great outdoors. Chef Master is known for introducing innovative solutions to assist chefs achieve excellent outcomes in the kitchen, such as thermometers with accurate temperature control mechanisms, ergonomic designs for comfortable handling, and cutting-edge culinary technology.
Chef Master has a wide selection of products to fit your outdoor cooking requirements. They sell a vast variety of cooking equipment, from grilling accessories to camping stoves and pots and pans. This adaptability ensures that cooks of all stripes, whether indoors or out, can always find the correct equipment for the job, be it grilling, smoking, roasting, or even campfire cooking.
Many products of Chef Master are created with portability and ease of use in mind. Their portable grills and stoves provide a lightweight and convenient option for picnics, camping vacations, and tailgating. In addition, the lightweight and practical accoutrements they offer make outdoor cooking more doable, allowing chefs to give their whole attention to their trade.
Why Choose Us?
The FryOilSaver corporation offers the deep fryer oil management solutions required to advance your culinary operations.
We are a top online seller of fryer oil filtering products and offer Free shipping to customers who live in the USA. We are committed to helping you manage your deep fryer oil for the best frying conditions. This saves money for your business without sacrificing flavour for your customers. With our choices for buying in bulk, we can save both small and large businesses a lot of money. Visit our online shop to find all the commercial deep fryer filtration goods and accessories you will ever need.
Chef Master Best Sellers
Chef-Master 90019 Portable Butane Stove – 15 000 BTU
The Chef Master 90019 high-performance compact single-burner gas cooker with 15,000 BTU is a must-have for camping and backpacking. This portable counter-top stove has one brass burner, a heat range that can be changed quickly, a Piezo electronic ignition system and many important safety features.
The Piezo electronic ignition device is a simple and common way to start gas-powered appliances, especially when cooking outside. The piezoelectric action is what makes the system work. When you press a button or handle on the device, it applies mechanical pressure to the piezoelectric crystal. When this pressure is put on this crystal, which is made of a special material, an electric charge is created.
The electric charge is then sent to the spark electrode, which is near the fuel source. As the charge gets to the spark electrode, it makes a high-voltage spark or arc between the electrode and a metal surface. This spark starts a light by igniting the petrol or fuel.
It is a safe way to start a fire that doesn't require batteries or an outside power source. The mechanical pressure put on the crystal creates the necessary electrical charge, so no other parts are needed.
The Piezo method is also easy to use and simple. When you press a button or pull a handle, the mechanical force starts the ignition process, which produces a spark right away to start a flame. This makes it easy to use and handy, especially when cooking outside, where speed and ease of use are important.
Because it doesn't have batteries or a lot of complicated electrical parts, it's less likely to break and can handle things like humidity and temperature changes better.