Wondering how you can take the elbow grease out of properly cleaning and degreasing your commercial deep fryer? You've come to the right place! We've made the process simple, with our 6-step guide to properly cleaning you commercial deep fryer with Magiclean boil-out fryer cleaning powder.
Keeping your commercial deep fryer clean and free of carbonized deposits not only ensures that the fried foods you serve are consistently delicious and crispy; it also saves you money in the long run. Deposits degrade oil quickly and cause your deep fryer to use more power, as dirty oil is more difficult to heat.
Safety first!
When working with a commercial deep fryer, make sure you have the correct PPE for the job. Burns and splashes are still dangerous, even if you're using a safe, non-caustic deep fryer cleaner.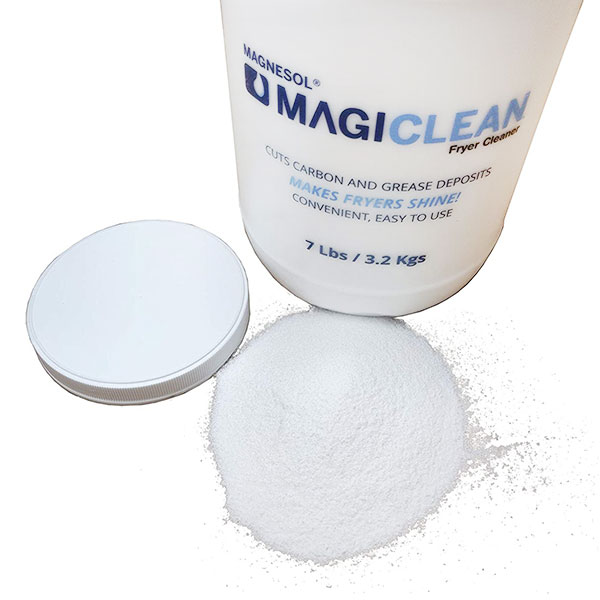 Step 1: Drain your deep fryer
Oil can't last forever. Even if you extend the life of your deep fryer oil with a filtering powder like Magnesol, there comes a time when you have to say goodbye for good. That's the perfect opportunity to boil out your commercial deep fryer.
Switch off your fryer, drain the oil and discard of it in a safe way, then fill the vat with water up to about one inch below the fill line.
Step 2: Time for Magiclean
Magiclean boil-out fryer cleaning powder is a safe, non-foaming and non-caustic cleaning product for commercial kitchens. It's used to remove burnt-on, carbonized deposits and gummy residue in your deep fryer vat and on baskets.
Using the chart on the side of the bottle, measure the correct amount of Magiclean for the size of your fryer and add it to the water. Then, use a heat-resistant scrubbing brush to evenly distribute the powder in your fryer.
Step 3: Turn up the heat
Set your deep fryer to 200° F, or use the boil-out function if your machine has one. Allow the water and Magiclean to simmer for about 30 minutes.
DO NOT bring the water to a hard boil as this can be damaging to your kitchen equipment.
Step 4: A quick scrub
Use that heat-resistant scrubbing brush again to brush the sides of your deep fryer vat and ensure there are no more deposits, and then drain the water.
Step 5: A quick rinse
Fill up your vat once again with fresh water and brush again if needed. Magiclean is a highly effective deep fryer boil-out cleaner, so scrubbing shouldn't take too much elbow grease!
Step 6: Good as new!
The last thing you'll want to do when cleaning your commercial deep fryer is give the machine a wipe-down with a clean cloth. Water and oil are not friends, so it's essential that all droplets of water get soaked up before you fill up the fryer with new oil.
Shop online for Deep Fryer Cleaning Products
Now that you've found an easy and convenient way to clean your commercial deep fryer, make the purchasing process easy too! We stock the full range of Magnesol products in our online store.
Shop with us and get FREE SHIPPING anywhere in the USA.