Not knowing when it's time to replace your frying oil is a costly mistake. When not properly regulating your oil quality, your restaurant can lose up to $1,000 per year – and that's talking conservatively. Don't play a guessing game any longer. Aside from helping you meet U.S regulatory requirements, when you manage your oil quality and consumption you provide consistent quality fried food and reduce premature oil disposal – saving you money, and saving your image.


3M Fryer Oil Quality Test Strips
The easiest way to test your oil quality is to use 3M frying oil test strips. These non-toxic paper test strips are a reliable, easy to use and objective means to accurately and scientifically measure the shortening breakdown of the oil. They provide almost immediate results after dipping into oil for 5 seconds, meaning very little disruption to your frying time.
From the moment you start to use your frying oil, it begins to breakdown. This breakdown of molecules in the oil results in the buildup of nasty byproducts which not only affect the taste, smell and appearance of your fried foods, but are widely believed to have negative health effects on the body. 3M test strips work by measuring the level of FFA (free fatty acids produced as a byproduct of the oil degradation) in your oil to establish when it's time to be changed.
Oil quality test strips are an absolute must-have fry oil management tool for any restaurant. 3M oil quality test strips work equally well in animal, vegetable or A/V blend shortenings making them a reliable option for any commercial kitchen.


Standard vs. Low Range 3M Test Strips
3M frying oil test strips come in two options: Standard range, and Low Range. The different is that standard range measures FFA levels from 2% to 7%, whereas low range measures from 1% to 2%.
Which option should you choose?
Standard range is sufficient for general usage however if you would like a more precise reading of early shortening breakdown up to 2%, low range strips are then required


How to Use a 3M Frying Oil Quality Test Kit
The strips are used by dipping the strip into hot oil until all four blue bands are submerged. After the strip is removed, the number of bands that change from blue to yellow indicate the exposure to a specific FFA concentration. For instance, if the bottom band completely changes from blue to yellow, but the top three stay blue, then there is a greater than 2% free fatty acid concentration but less than 3.5% FFA.


Directions for use:
Wear heat resistant protective gloves and use metal tongs to grab the longest white end of a strip.
Dip the test strip into hot oil (325–400°F) so that all blue bands are submerged
Hold the strip in the oil for 5 seconds
Remove the strip from the oil and wait 30 seconds
Hold the strip up to the light and compare the strip to the 3M evaluation chart and follow the recommendations.
Do not re-use strips. Throw away after use.
Store in a tightly closed bottle at room temperature (70°F) or below. Keep unused bottles in a refrigerator or freezer.
Understand the Test Strip Readings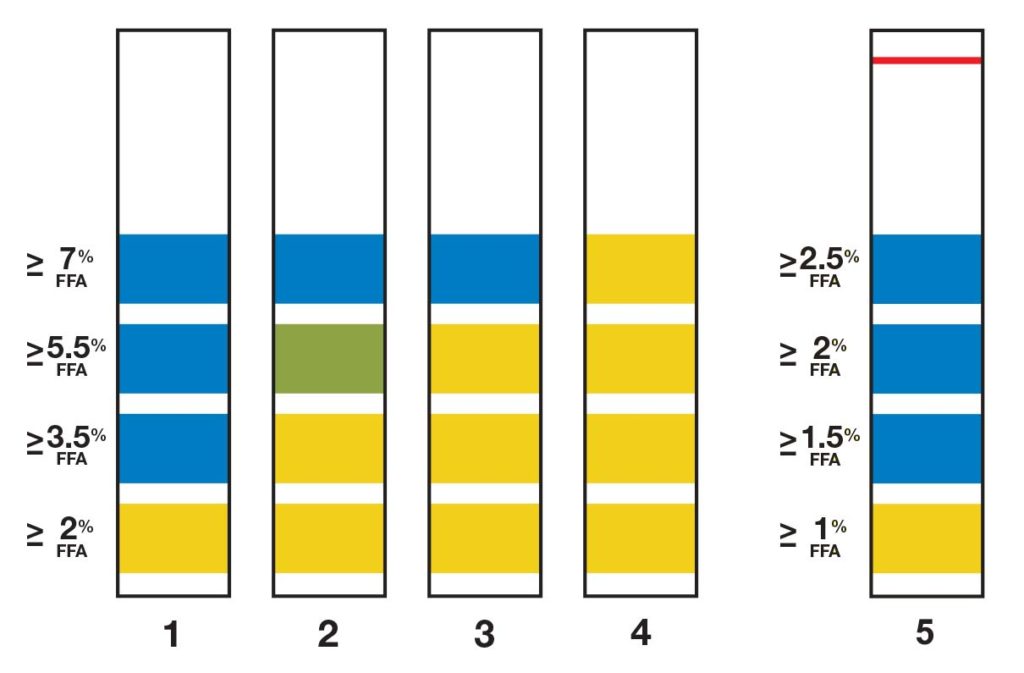 Strip 1: Shortening breakdown has begun. Indicates greater than 2% FFA.
Strip 2: Check breaded food quality (color/taste, particularly chicken and fish). Discard shortening if unacceptable. Indicates greater than 3.5%.
Strip 3: Check fried food quality (color/ taste, particularly chicken, fish and fries). Discard shortening if unacceptable. Indicates greater than 5.5% FFA.
Strip 4: Recommend discarding shortening. Indicates greater than 7% FFA.
Strip 5: Example of a low range strip reading for precision up to 2%
Buy 3M Test Strips Online (FREE SHIPPING)