Removing baked on food, grease and carbon buildup from your oven, grill or iron cookware can be extremely challenging. Sometimes it doesn't matter how many scrubbing pads and detergents you use; those marks simply just don't budge.

The FryOilSaver Company have an all-natural solution for you! Our pumice stones are highly effective scourers and they're perfect for cleaning foodservice equipment.
They are odorless and flavorless, so they won't leave behind any smells or strange tastes on your kitchen equipment!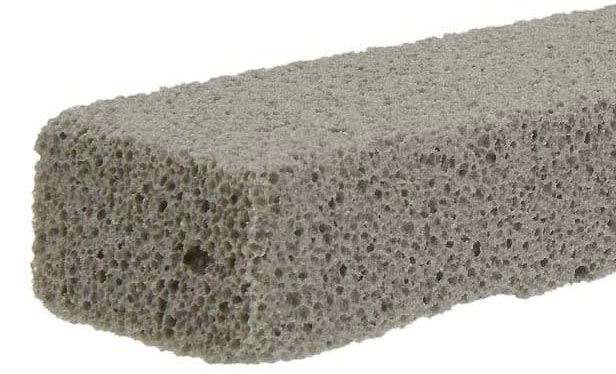 Why you should use a pumice scouring stick in your kitchen
For as long as humans have been cooking, we've had to clean up. Our ancestors didn't have all the amazing detergents and cleaners we have today; they had to rely on what nature gave them. They found a stone that was hard enough to scour anything clean but gentle enough not to damage their cookware and called it pumice. The rest is history! Pumice stones have been used for cleaning for so long, simply because they're that good at removing burnt on food and carbon buildup.
How a pumice stone works for cleaning
Products like Pumie® Scouring Sticks, available in our online store, are made from 100% natural pumice, harvested here in the USA, and are so easy to use!
Simply wet the surface, grill, oven or iron cookware you want to clean, then rub the pumice scouring stick across the affected areas. You will notice a paste buildup starting to form. This means the pumice is doing its job! Pumice is a soft stone made up of fine materials, which is where the paste comes from. It's an abrasive substance that quickly and effectively removes burnt on grease and baked on food. Simply rinse it away and be amazed by the cleaning results!
Pumice scourers can also be used to remove scale on metal piping, mineral deposits and stains on sinks, tubs and even toilets.
How to clean a pumice stone after use
Once you've finished cleaning your grill or oven with your pumice scouring stick, cleaning the stone off is a breeze. All you need to do to clean your pumice is run it under the faucet. Nothing sticks to the pumice, and no detergents are necessary when using pumice, so the water washes it clean in a couple of seconds.
Buy your pumice scouring sticks online
The FryOilSaver Company online shop stocks the range of high quality US Pumice Co. Pumie® sticks, scourers and more. Shop the range here to get free shipping the USA.