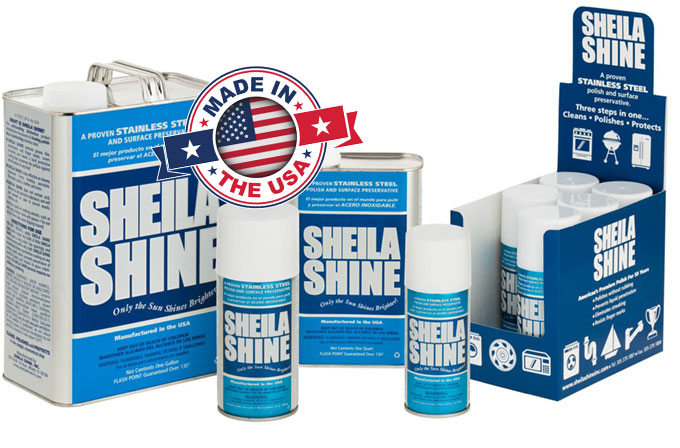 Sheila Shine is hands down the best combined stainless steel cleaner, polish and surface preservative on the market. If you have used it before, you know exactly why it has developed such a stellar reputation over the decades.
Sheila Shine effortlessly removes greasy film, water marks, smudges, resists finger marks and forms a unique protective coating that preserves surfaces against future deterioration. Regular use of Sheila Shine will keep a high gloss and professional appearance on your surfaces indefinitely.
There's a high chance that when you step into a room with beautiful shiny stainless steel doors, appliances and fitments, they are cleaned, polished, and protected with Sheila Shine. Sheila Shine is great for stainless steel appliances and barbeques but also works just as well to restore aluminum and chrome. It can even be used on other finishes such as wood, Formica, fiberglass, porcelain, brass, enamel and plastic… Simply put, it brings surfaces that have lost their lustre back to life.


Why does Sheila Shine work so well?
You may want to know WHY it works so well. This is because Sheila Shine was specifically engineered not only to clean stainless steel but also to polish and add a protective coating to protect it from deterioration, all in one simple application. It's a 3-in-1 product! Yes, there are many non-abrasive cleaners and polishes on the market for use on stainless steel. However, Sheila Shine is the only one that can claim the 3-in1 "clean, polish and protect" title.
Additionally, Sheila Shine not only saves you time, makes cleaning and polishing a pleasure, but it saves you money. Why buy, use and store 3 products when you can use just 1?


How do you use Sheila Shine?
Sheila Shine spray and Sheila Shine liquid are both incredibly easy to apply. Apply a small amount to your surface and wipe with a soft, clean and dry cloth. No rubbing or polishing is needed, so a wipe is all the elbow grease required to get things clean, polished, and protected in no time.
If you are a cleaning company, adding Sheila Shine to your arsenal will benefit you greatly. Aside from its money saving and time saving attributes, your customers will be blown away by how their stainless steel shines after you've got a hold of it.


What can you clean with Sheila Shine?
Sheila Shine is not only for commercial use but it is used and loved by homeowners too! The uses for Sheila Shine are extensive with many ways to use it and many surfaces that will benefit from it. Once you try it, you will never need to, or want to, go back to your old ways.


Some common uses for Sheila Shine:
Industrial: Elevators, escalators, water fountains, appliances, range hoods, and roof gutters.
Kitchens: Sinks, faucets, stoves, ovens, refrigerators, dishwashers, range hoods, trash compactors, microwaves, stainless steel or chrome trash cans, back splashes, cabinet handles, door handles, and window and door fixtures.
Bathroom: Faucets, sliding shower doors, door handles, lighting (chrome, brass etc), window and door fixtures.
Living room: Chrome furniture, wood furniture, coffee tables, end tables, lamps, ceiling fans, and trophies.
Laundry Room: Washing machines, drying machines.
Bedroom: Lamps, nightstands, dressers, ceiling fans, handles and fixtures
Patio and Outdoor: BBQ grills, sinks, faucets, drinking fountains, bar stools, trash cans and golf clubs
Automobile & motorcycle: Hub caps and all chrome parts.
Boats and Yachts: Metal and aluminum fixtures, towers, fiberglass, instrument panels, teak decking and woodwork
Where can you buy Sheila Shine?
For you convenience, you can buy your Sheila Shine online right here on FryOilSaver.com in singles or bulk packs, with FREE shipping in the USA. Sheila Shine is available as aerosol spray in 10 ounce cans or as a liquid in 1 quart or 1 gallon cans.

In summary, if you are one of the many people looking for the best and most versatile stainless steel cleaner out there, Sheila Shine is the answer. Whether you are a homeowner, large corporation, or cleaning company looking for an all-in-one solution – try Sheila Shine!