A frequently asked question –  Is Magnesol safe to use?  The simple answer: Yes. Customers can purchase Magnesol for use as a frying oil filter media with utmost confidence in its safety, purity and performance. Below we outline what Magnesol is, what food safety certifications it holds and its impact on environmental sustainability.
Buy Magnesol online with free shipping in the USA
What exactly is Magnesol?
Magnesol, a registered trademark of The Dallas Group of America, Inc., is a food grade pure white, odourless, tasteless powder. In technical terms, it is a synthetic, amorphous, hydrous form of magnesium silicate. This safe compound is used as an adsorbent to remove insoluble and soluble impurities from used fry oil through a process of filtration.
The purpose of filtration with Magnesol is to extend oil life up to 50% by keeping it clean and clear. This allows for the cooking of consistently superior, crisp and tasty fried foods. It is the world's best fry oil filtration medium used by restaurants, fast food chains, food trucks etc.
All while being food grade and allowing for exceptional quality, longer lasting fry oil and delicious fried food, oil cost savings when filtering with Magnesol can be immense! Click here to read more about how Magnesol works and the benefits of using Magnesol in your fry oil maintenance.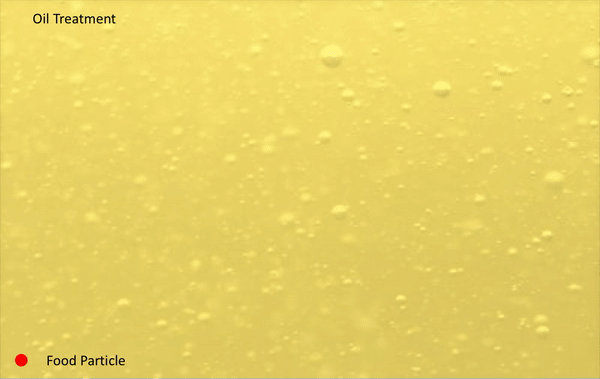 How does Magnesol work?
Filtering oil every day with Magensol not only removes food debris from oil but also extracts soluble liquid impurities that contribute to off flavors and odors of used oil. Unlike ordinary filter powders, Magensol particles act like a magnet to attract and remove the dissolved tastes and odors that can spoil fried food.
Magnesol Safety Facts and Certifications
Unlike filter additives, Magnesol does not dissolve into or remain in frying oil and is completely removed from the oil by the filtration process. It is therefore not ingested by consumption of the foods fried in the filtered oil.
Magnesol meets the food grade specifications of the US Food and Drug Administration (FDA), National Sanitation Foundation (NSF) and the Joint Expert Committee on Food Additives (JECFA) of the World Health Organisation (WHO)
Magnesol meets synthetic magnesium silicate specifications as set out by the the FAO / WHO Joint Expert Committee on Food Additives (JECFA), the US Food Chemicals Codex and the Codex Alimentarius of the EU.
Synthetic magnesium silicate is amorphous, which means it does not contain crystalline silicate. Synthetic magnesium silicate should not be confused with natural magnesium silicate which contains crystalline silicates i.e asbestos and talc
Magnesol is considered to be safe by regulatory agencies within the US, EU, Canada, New Zealand, Australia and over 50 other countries across the globe.
Who is the Dallas Group of America?
Since 1973, The Dallas Group of America inc. have been providing high quality adsorbent silicates such as Magnesol to the food, pharmaceutical, and chemical industries. Recognizing that effective and safe products assist in the profitability of their customers, the Dallas Group are committed to providing such products while meeting and exceeding regulatory standards.
The Dallas Group utilizes the legal services of globally recognized law firm, Keller & Heckman, who specialise in food regulatory matters. It is through this expert assistance in regards to food safety issues that The Dallas Group are able to provide advice and assurance that their products such as Magnesol are safe and meet the required legal guidelines as set out by the authorities.
Degreed and award-winning chemists, engineers and food safety specialists are the brains behind Magnesol. To ensure all their products and raw materials meet purity and quality specifications, well over 50 000 tests are completed each year to make sure they pass with flying colors.
All employees receive monthly food safety training and training in the ever-evolving guidelines set out by the FDA. This is just a fraction of all efforts made by the Dallas Group to meet safety requirements. Continuous improvements are made based on observations set forth by monthly internal audits.


Magnesol Sustainability Efforts
The Dallas Group are thoroughly invested in developing both safe AND sustainable solutions that minimize or eliminate environmental, health and safety risks.
When choosing to use Magnesol as an oil filter media in your fry oil maintenance process, a comprehensive Sustainability Impact Analysis can be requested. This can include information such as your impact on annual global warming, on annual energy demand and on annual oil production land use.
By utilizing Magnesol in your fry oil filtration process, you will experience reduced oil consumption as oil life is extended, with 50% less oil disposal. As a result, your foodservice business will have a positive impact on the natural environment. A safer work space for your employees will also be achieved, as hazardous oil filtration methods will become a thing of the past.

[1] Perkins, E.G., and C. Lamboni, Magnesium Silicate Treatment of Dietary Heated Fats: Effect on Rat Liver Enzyme Activity, Lipids 33:683-687 (1998)