Extend the life of your
commercial deep fryer oil by
up to 50% with Magnesol
Shop online at FryOilSaver Company for the range of Magnesol products. Magnesol Filter Powder is a highly effective and 100% safe oil saving product that removes solid particles and solvent impurities from your deep fryer oil for better flavor and consistent appearance.
Get more bang for your buck with Magnesol frying oil saver
Daily filtration with Magnesol will extend the life span of your oil by up to 50% or more, ultimately benefitting your bottom line! Plus, by getting rid of all the droplets of water, pieces of food and salts in your deep fryer oil you ensure consistent flavor and great color, every time you serve a meal. This fry oil extending powder definitely won't leave a bad taste in your mouth! Magnesol meets the food grade specifications of the FDA, NSF, JECFA of WHO.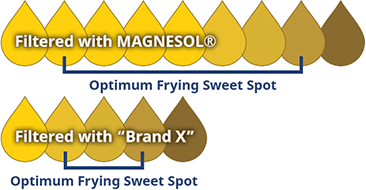 Frequently Asked
Questions
1
Is Magnesol food grade? What certifications does it have?
Yes – Magnesol meets food grade specifications of the US Food and Drug Administration (FDA), National Sanitation Foundation (NSF), and the Joint Expert Committee on Food Additives (JECFA) of the World Health Organization (WHO). It is also Kosher and Halal certified.
2
Is Magnesol an additive? How is it different than what I am using now?
Yes – you do require an oil filtration machine. You cannot use a filter cone or bag. Five to ten minutes (per fryer) of recirculation through a built-in or portable filter machine is necessary for maximum effectiveness.
Get one here
3
How many extra days of oil life can I expect? How much Magnesol do I use?
Oil life varies with fried food sales volume, product mix and fry station management practices. At least a 30-50% increase in oil lifespan is attainable for a new Magnesol user. Generally 4.8oz of Magnesol is required to treat 50lbs of oil. Consult the side of the carton for other volumes.
4
Do I need a filter machine? How long do I filter my oil?
Yes – you do require a filtration machine. You cannot use a filter cone or bag. Five to ten minutes (per fryer) of recirculation through a built-in or portable filter machine is necessary for maximum effectiveness.
5
Does Magnesol work with any type of cooking oil?
Yes. Oil degradation is common with all edible frying oils and Magnesol is effective on all types, including the new zero trans-fat oils.
1
At what temperature should I filter my frying oil?
Magnesol best performs when the oil is filtered at cooking temperature, typically 285-360 °F.
2
Do I put Magnesol in the oil or in the filter pan?
Magnesol works equally well when sprinkled over the filter paper in the filter pan or directly into the oil. It will create a 'filter cake' on the screen or filter paper.
3
Magnesol reduces Free Fatty Acid and Total Polar Materials. What does this mean?
FFAs (Free Fatty Acid) are molecules that lower the surface tension of oils, allowing batter and breading to soak up more oil. The result is greasy fried food. Magnesol greatly slows down the formation of these molecules, allowing your oil to last longer and fried foods to be light and crisp. TPMs (Total Polar Materials) are the only chemical measure of oil degradation that has been correlated to the taste and odor of fried food. Magnesol is the premier product at reducing TPMs.
4
What happens if I don't filter daily with Magnesol?
During frying, oil surrounds and soaks into food, actually becoming part of it. As frying oil breaks down, dissolved impurities soak into the food, affecting taste, texture and appearance. Daily use of Magnesol extracts the off flavors and odors dissolved in oil so that only fresh, clean frying oil comes into contact with the fried food. And cleaner oil means longer oil life. For every day of filtering missed, you lose up to two days of oil life. Keep your frying oil costs down and your customers happy by using Magnesol every day.
Buy Magnesol oil filter powder online
with free shipping in the USA
* Magnesol meets the food grade specifications of the FDA, NSF, JECFA of WHO *
Magnesol Fry Powder for Efficient Fry Oil Management
Magnesol is a non-hazardous, colourless substance that can purge spent oil of both solid and liquid contaminants, hence extending the oil's useful life.
You maintain a spotless oil supply, allowing you to reliably serve out crisp, golden, and tasty fried items time and time again.
Daily filtration with Magnesol can double or even triple the cooking oil's service life, which is great for your bottom line. By removing any and all water, food debris, and salts from your deep fryer oil, you can guarantee that every dish you serve will have the same outstanding taste and colour.
Magnesol complies with all requirements for use in food processing equipment as set forth by the  Food and Drug Administration (FDA), National Sanitation Foundation (NSF), and the Joint Expert Committee on Food Additives (JECFA) of the World Health Organization (WHO).
The Importance of Magnesol Products in The Food Industry
Magnesol's solutions are indispensable in today's food sector because cleaning oil is such an integral part of maintaining quality standards. Repeated use of the same cooking oil in a frying operation causes it to undergo chemical and physical changes that can compromise the quality and safety of the food being fried.
Off flavours, less crispiness, and lowered food quality might result from food particles, contaminants, and degradation byproducts building up in the oil. Consumers are also at danger when contaminants are present since they may contain toxic compounds like acrylamide or trans fats.
Businesses can guarantee the flavour, texture, and safety of fried goods by eliminating impurities and maintaining the quality of the oil. Cleaning oil on a regular basis not only makes it last longer, but also saves money by eliminating the need for frequent oil replacement and helps the environment by producing less waste.
Benefits Of Using Magnesol Fry Oil Products
Magnesol products provide numerous advantages for the food processing sector:
Cost Savings
The potential for financial savings is one of the main advantages of using Magnesol products. These solutions can cut down on frying oil expenditures by as much as half by keeping the oil clean and fresh and so extending its lifespan, as well as reducing the amount of oil used to cut down on waste. The bottom line is that companies can lower their frying oil costs by optimising their oil usage.
Operation Integration
Magnesol's products were developed with the goal of providing simple integration into regular filtering systems. They can be implemented with little to no disturbance to current operations because they are compatible with preexisting infrastructure. Food companies can easily include Magnesol solutions into their established oil maintenance practises due to the products' user-friendliness.
Retain Oil Quality
Magnesol products are excellent in eliminating undesirable flavours, colours, odours, free fatty acids (FFAs), and total polar materials (TPMs) in frying oil. Magnesol keeps the oil clean and free of impurities that can alter the flavour, appearance, and smell of fried foods by removing these unsavoury components. All things considered, this results in better-tasting finished dishes.
Magnesol products help improve oil quality by getting rid of undesirable elements, resulting in better heat transfer and stability during frying leading to more rapid and even cooking. It also assists to achieve longer hold times of products.
Increased Consistency and Quality of Food
Better quality and consistency can be guaranteed when Magnesol products are used. Fried items' intended flavour, texture, and appearance can only be achieved with clean oil. With fewer contaminants, the food can be produced reliably to please customers, increasing both satisfaction and loyalty.
Why Choose Us
Many restaurants and other food service businesses rely on deep fryer oil to prepare their specialty dishes. However, the flavour, look, and even safety of the dish can be drastically altered by the oil's quality and cleanliness. Therefore, it is essential for a food service establishment to properly manage deep fryer oil if it wants to consistently create high-quality fried dishes at low cost.
The FryOilSaver company is a market leader in providing deep fryer oil conservation solutions for restaurants and other food service establishments. The business provides a variety of options for enhancing oil filtration, cleaning, and saving money in commercial fryers. As professionals in the food service sector, we value quality above all else and work hard to provide cutting-edge solutions that will aid our customers in preserving it.
Food service organisations can improve the quality and longevity of their deep fryer oil even further by combining Magnesol, a product certified by the Food and Drug Administration, with our Fryer Filter Machines. Magnesol is great for commercial kitchens because it is simple to use and requires little in the way of training.
Magnesol Best Sellers
Magnesol Fryer Oil Filter Powder in Sachets or Per Box
Magnesol can be used daily to draw out the unpleasant scents and aromas that are suspended in oil. Fry oil lasts twice as long when treated with Magnesol, and you can cut your oil costs in half as a result.  To use Magnesol, just sprinkle it onto filter paper or a filter screen connected to a filtering device. 
Magnesol is an easy way to get rid of solid and dissolved contaminants in used oil, meaning your fry oil will last longer and your cooking oil will taste better. This purifier is distinct from all others on the market. Magnesol particles attract other particles. They draw out contaminants from fry oil, such as food scraps and liquids, during the filtration process. These contaminants provide undesirable flavours and odours to fried foods.
Magnesol Filter Pad Envelope – 30 x Pads – 15.5 x 15.5
Magnesol Filter Pads are a non woven filtration medium created from Magnesol, a type of magnetic mineral used to purify cooking oil. Each pad has a surface area of 15.50 square inches and is made for use in Lowboy Filter machines and similar oil filtration systems. As the oil flows over the pad, it captures any dirt or debris that may be present, effectively cleaning the oil. Magnesol has been shown to be superior to other filtration media in its ability to purify oil and remove contaminants.