The quality of your fried foods is determined by the quality of your cooking oil. In the frying process, oil begins to degrade and breakdown. This breakdown of oil affects the taste, texture and overall quality of your fried foods. As a result, it is expected that all restaurant and fryer operators implement fry oil management programs to ensure top quality output at all times. In the end, delicious food being served means repeat customers and MORE customers, which ultimately means more money for your business.

Why must frying oil quality be monitored and tested?
To put it simply, from the moment your cooking oil starts to heat up and get used, it begins to breakdown and degrade. In technical terms, fresh, unused frying oil is naturally almost pure triglyceride and naturally nonpolar. This means the molecular compounds which make up the oil are "whole" and still "in one piece".
As the frying process begins, heat, oxygen and moisture is introduced into the oil. As a result, those previously nonpolar compounds begin to break down and turn into polar molecules, producing non-triglyceride by-products. These by-products include FFA's (free fatty acids), cyclic compounds, polymers and alcohols. High concentrations of these byproducts not only lead to poor fried food quality, but are also widely believed to have adverse health effects in humans.
The five stages of the frying oil life cycle

What methods are available to test overall frying oil quality?
There has always been debate around which method is best to determine when cooking oil is going bad. Some operators opt for more traditional, subjective methods such as sight and smell observations. In comparison, others opt for the more sophisticated, scientific methods.
In international markets where oil quality is strictly regulated, methods which measure TPM (total polar molecules) and FFA (free fatty acid) concentrations are the most predominant due to their more fail safe nature and accuracy.
Regardless, knowing what options are available and the pro's and con's of each is key to making informed decisions when putting an oil management process in place. Explore some common methods to test frying oil quality below.
1. The Fryer Basket Method
This is a subjective and visual method which relies on the experience of your fryer operator. Here, a fryer basket is submerged into the cooking oil. To measure how dark the oil is, a staff member counts how many rows in the fryer basket are visible in the oil when submerged. If the benchmark number of rows previously deemed to be a good reference point cannot be seen, the oil needs to be changed.

2. Visually Guided Fry Oil Test Kits
Another visual method, oil tests kits provide a means to compare the color of an oil sample from the fryer with a reference oil sample in a tube. These tests generally come with one or 2 oil reference samples. One will reference the "sweet spot" of oil, and the other references bad oil.
An operator simply takes a sample of the oil from the fryer with an eyedropper, holds it against the sample tubes and compares the color to make a subjective decision.
Despite being a cheap and simple method, there are several cons. Firstly, several conditions can affect the subjectivity of the test such as lighting conditions and fryer cleanliness. The color of oil seen outside the fryer is never the same color as oil seen within the fryer. Secondly, what one employee deems a good reference point for oil quality might be different to that of another. This could lead to inconsistency in quality of your food output and also premature or late oil discard.
3. FFA (Free Fatty Acid) Test Strips
FFA measurement strips are single use strips of special paper which chemically react to free fatty acids in fryer oil. After being submerged into the oil allowing the chemical reaction to occur, colors appear on the strip. The colors on the strip are then compared to a provided color chart to establish FFA concentrations. Standard test strips measure FFA levels up to 7%, and low range strips measure up to 2%. A reading between 5.5% – 7% signifies that the oil must be changed.
Paper test strips are easy to use, cause no interruption to frying time and have an accuracy rate of around 80%. In addition, very little staff training is required to correctly use them and they work for any type of oil. However, something to consider with these paper tests strips is that storage conditions are crucial. Exposure to moisture and high humidity can compromise results and lead to false positives.

4. Digital TPM (Total Polar Molecule) Measurement Devices
These digital cooking oil testers, such as the Testo 270 cooking oil tester, are used to determine quality of oil scientifically by measuring the total polar molecules (TPM), or non-triglycerides, present in the oil. In simple terms, it is essentially measuring the fat breakdown. TPM measurement devices are extremely accurate, more so than FFA test strips, with an average accuracy of 90%.
These devices are either handheld or integrated into the fryer. With handheld devices, the device is inserted into the oil as instructed until the display settles on a reading. The discard points are between 25% – 27% TPM depending on local regulation.
Despite the benefit of accuracy, these devices hold a high once off cost. With handheld devices, misuse and damage due to human error can lead to high repair costs too. In addition, monthly recalibrations are needed and annual testing is required directly through the manufacturer. These factors cause these devices to be somewhat high maintenance.
Built-in TPM devices take readings automatically during filtration processes and are less likely to be effected by human error. As a result, this leads to more accurate readings and less room for damage. Despite this, built-in systems also require calibration checks through the manufacturer every 1 – 3 years which can come at a hefty cost.

Conclusion
Each method of quality measurement is unique in its function but all serve the same purpose – to help you serve crisp and great tasting fried foods at all times. The option you choose to use is dependent on your budget, experience and local regulations.
Don't forget that there is a lot more involved in keeping your oil in tip top shape than just fry oil quality testing. Regular filtration, stabilizing of your frying oil and applying the correct cleaning and maintenance procedures to your equipment are all vital to deep frying success.
Order your fry oil testing kits online
At FryOilSaver, we have a variety of frying oil test kits and devices available in our online store including visually guided fryer oil quality test kits, frying oil quality assurance PCM test kits and Digital TPM measurement devices. Plus, we offer FREE shipping throughout the USA.
Now you know how to test your fry oil quality – but how do you extend the life of your fry oil?
MirOil FryPowder is an amazing two-in-one product that helps extent the life of your deep fryer oil. Businesses that use FryPowder in their commercial deep fryers enjoy oil savings between 35% and 50%, just by adding an easy-to-use sachet of powder to their oil before each frying session.
Receive a 10-day trial pack of MirOil FryPowder for FREE, on us! There's no catch. The 10-day trial pack includes 10 sachets of FryPowder – and that's really all you need to keep your oil in peak condition for the duration of the trial.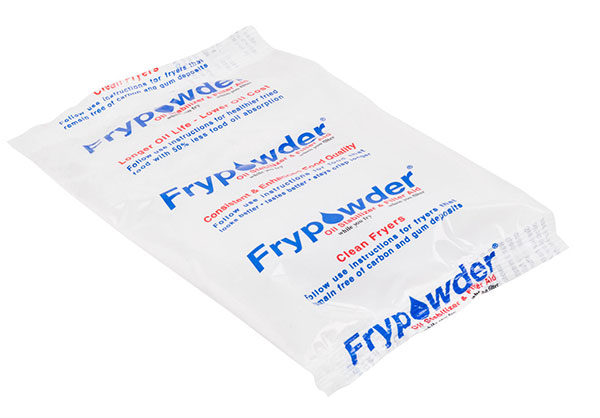 Get in touch to order your FREE 10-day trial of MirOil FryPowder
Submit an enquiry below and we will get in touch to organize your free trial products. Alternatively, send an email to [email protected] or give us a call on +1 980 221 0104