There are no shortcuts when it comes to keeping your barbershop or beauty salon clean and disinfected. Adhering to strict sanitizing and disinfecting procedures to make sure your tools and implements are sanitary and germ-free is not only imperative to maintaining your reputation as an industry professional, but it is also the law.
Simply just cleaning your tools with water, a general cleaning solution and a quick wipe does not does not kill bacteria, viruses or fungi which can spread infection from one client to the next. Sterilizing and disinfecting combs, brushes, rollers, clippers, scissors and all other implements for grooming and beauty is required between each use. The most convenient way to do this is to immerse them in a specially formulated, hospital grade disinfecting solution such as Unit Blue.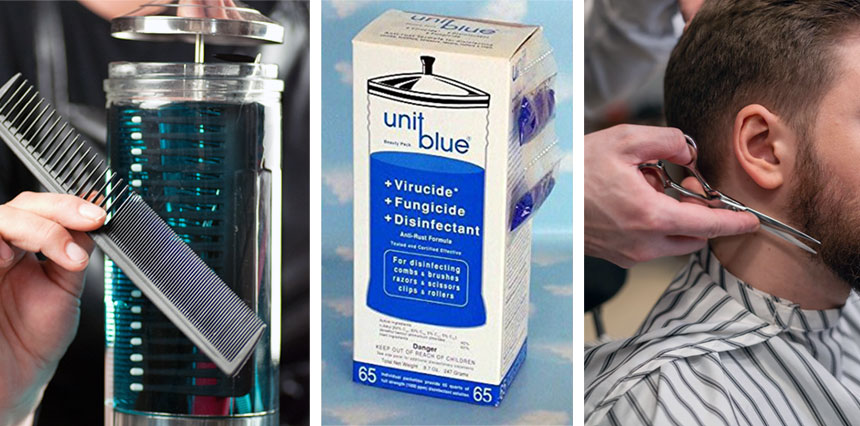 What is Unit Blue?
Unit Blue virucide, fungicide and disinfectant is one of the most economical, efficient and convenient all-in-one disinfecting products ever developed. Unit Blue has been formulated in a unique process to produce a rapidly soluble, free-flowing and easily handled product. It's an ideal match for professional groomers to sterilize their equipment on the go.
With a hospital-grade, highly concentrated and revolutionary anti-rust formula, this disinfectant is designed to disinfect combs, brushes, scissors, razors, rollers, clips and more with ease. Metal implements can be fully submerged for hours without the risk of rusting.
It's highly economical as one box of 65 sachets of Unit Blue crystals makes 65 quarts of full strength 1600ppm disinfecting solution. The pre-measured sachets make it easy to prepare accurate strength dilutions without costly wastage.
Another excellent bonus is that Unit Blue will also not harm the environment, water supply or sewage system.
Unit Blue Performance
When used and tested with full immersions for 10 minutes in a solution prepared according to the above directions, Unit Blue germicide has been found to be effective as a disinfectant and as a fungicide against Trichophyton mentagrophytes, and as a virucide against Influenza A and human immunodeficiency virus Type 1 (HIV-1, AIDS virus) on hard, nonporous environmental surfaces
A quick reminder that each country or state has specific regulations for barbers and barbershops. Check your state regulations to make sure you are meeting the regulations and adjust your dosages accordingly.
Unit Blue Directions for Use
Recommended Dosage to disinfect and deodorize barber and/or beauty tools:
Mix one (1) gallon of water with four (4) packets of Unit Blue (makes 1 gallon of 1600 ppm active use solution), or
Mix one (1) quart of water with one (1) packet of Unit Blue (makes 1 quart of 1600 ppm active use solution)

Directions for use:
Unit Blue Dissolves instantly in warm or cold water (see recommended dosages)
Completely immerse cleaned combs, brushes, rollers, and other barber, beauty tools and implements for 10 minutes (or longer if required by local authorities)
For combs, scissors, and brushes, dispense the prepared solution into counter jars
Use a basin for brushes, clips and rollers
For heavily soiled areas, a pre-cleaning step is required
Prepare a fresh solution for each use

---

Buy Unit Blue online here with FREE same day shipping throughout the USA