Knowing when to change the deep fryer oil in your restaurant can be considered both an art and a science. Certain qualities of your deep fryer oil, like taste and smell, are usually the biggest clues that it's time for a change. However, if you want to be sure that it's time for a change, cooking oil test strips can give you a completely accurate answer in a matter of minutes.
The thing is, every restaurant is different, with unique recipes, operating procedures and equipment, and so every restaurant's oil filtering and changing needs will be different – but there are a few rules you can follow to ensure great tasting food and happy customers. Read on to find out about 3 different methods of determining how often you should change cooking oil.
The biggest sign you should change your cooking oil: smoke
The old saying goes "where there's smoke, there's fire" and like all old sayings, this one's always true. Food cooked in smoky oil tends to have an unpleasant bitter flavor.
Every type of oil has a smoke point – which refers to the temperature oil can be heated to before it starts smoking. Oil with more impurities will have a lower smoke point. The smoke points for fresh canola and sunflower oil are 400°F and 440°F respectively, but most deep frying is done at a lower temperature of 350-375°F. If your oil is already starting to smoke when you reach the 350°F mark, it's definitely time for a change.
Trust in taste to find out when to change your cooking oil
If cooking oil has been in use for a while, or if you haven't implemented a proper oil management system in your restaurant kitchen, you'll taste the results in the food you serve. Food deep-fried in old, unfiltered oil can become soggy and bitter, which is a huge turn off for customers.
Effectively and regularly filtering your cooking oil with the best oil filtration products will help prolong the life of your oil and ensure consistent flavor, and happy customers who keep on coming back for more.
Products available to help you filter your fry oil effectively include a wide range of fry oil filter bags and frames, oil filter powders and filter aids, manual or electric oil filtration machines and more.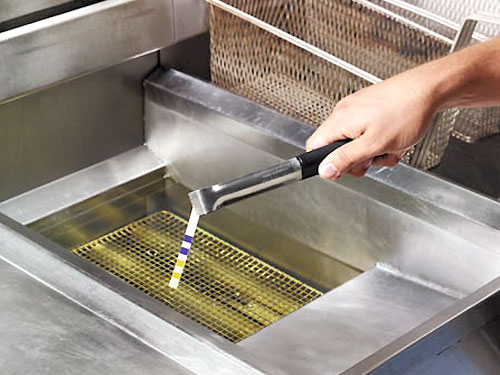 Be 100% sure with cooking oil test strips and kits
Take the guesswork out of knowing when you should change cooking oil with fast, effective cooking oil test strips and kits.
Cooking oil test strips are quick and easy to use; all you need to do is dip the test strip in oil for 1-2 seconds, and check the results against the included evaluation guide to find out how the saturation levels of free fatty acids (FFAs).
An alternative to cooking oil test strips is to use a reusable oil quality tester such as the FryOilSaver Co. Visually Guided Fryer Oil Quality Test Kit.
With this kit, a sample of your oil is taken with the reusable eyedropper provided, which is then visually compared to two color tubes. Simply compare the fryer oil color to the color of the tube to determine how soon you will need to replace or filter your oil.
Cooking oil tests strips and reusable visually guided test kits are both equally easy to use and effective options to accurately monitor the shortening quality of oil in your fryers. 
An absolute must-have for any commercial kitchen needing to quickly test their oil quality on the fly without delay.
Find everything you need to effectively manage fry oil
Shop online for fry oil testing strips from brands like MirOil and 3M, as well as fry oil test kits that we produce under our own name. We're proud to offer bulk savings and free delivery within the USA on all the products you need to effectively manage your fry oil.