MirOil BD505 55 lb Electric Fryer Oil Filter Machine & Discard Trolley
$2,180.00
Same day shipping!
The fastest and easiest way to filter your used fryer oil and reduce downtime!
MirOil BD505 55 lb Electric Fryer Oil Filter Machine provides a convenient way to filter oil from fryers with up to 55 lb capacity.  The large capacity discard trolley and electric 1-way pump makes the task of filtering used fryer oil a whole lot faster and a whole lot easier. Speed up your oil filtration process to get back to business quickly! With a sturdy yet lightweight design and durable wheels, the MirOil BD505 electric fryer oil filtration machine and discard trolley is easy to move from fryer to fryer.
Quantity Discounts: buy more, save more!
Quantity
Discount
Per Item Price
2-3
-

$

40.00

$

2,140.00
4-10
-

$

80.00

$

2,100.00


Plug and play – everything needed to start filtering your oil is included!
1x filter bag holder frame and reusable filter bag is included, model RB6PS
MirOil BD505 55 lb Electric Fryer Oil Filter Machine is an easy to use electric oil filter machine. Open the fryer's drain valve and empty the used oil through a fryer oil filter bag and into the filter machine's discard trolley. Once all the oil has been filtered, you will simply flip a switch to pump the freshly filtered oil back into your fryer.
The 1-way electric pump is designed to be used with fryers with a drain valve
MirOil RB6PS replacement filter bag fits this filter machine
Filter oil between 300 and 350 degrees Fahrenheit
Dimensions: 16 1/2″ width x 24 7/8″ depth x 40″ height (including handle)
Capacity: 55 lb
Hertz: 60 hertz
Voltage: 120 volts
Phase: 1 phase
Package weight: 90 lb (product weight: 83 lb)
Manufactured in the USA
Filtering oil with heavy crumb loads?
If you have a heavy breading and crumb intensive frying process make sure you use the ideal filter bag for your MirOil filter machine and other useful equipment for the job. Read our solution to common heavy crumb load oil filtration problems. Click here to read the post
Which MirOil fry oil filter machine do you need?
Investing in an oil filter machine? Here we breakdown the different uses of the various series of MirOil filter machines so you can choose the right oil filtration machine for your fryer type and capacity. Click here to read the post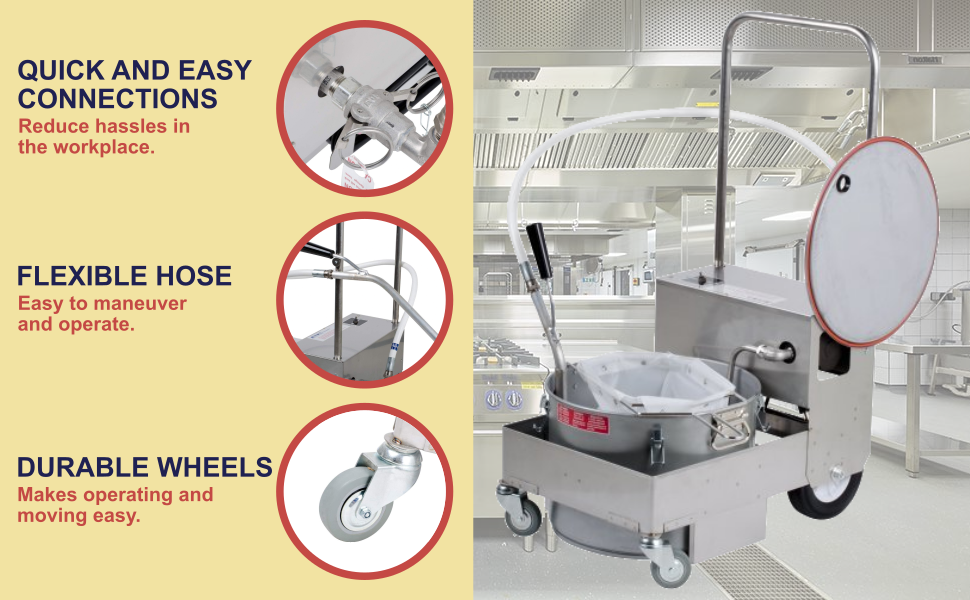 Optimize oil performance with the MirOil BD505 55 lb electric fryer oil filter machine!
The MMirOil BD505 55 lb Electric Fryer Oil Filter Machine stands as the premier choice for ensuring pristine and effective frying oil in commercial cooking spaces. Crafted with excellence in the USA, this top-notch fry oil filtration machine simplifies the oil purification routine, offering both time and cost savings for your business.
Key Features:
Efficient Filtration: The MirOil BD505 55 lb Electric Fryer Oil Filter Machine is designed to meticulously remove even minute contaminants from your frying oil, promoting longer oil longevity and superior food quality.
Large Capacity: This filter machine boasts a sizable frying oil capacity, making it perfect for high-volume commercial kitchens and restaurants.
Electric-Powered: The electric-powered pump ensures effortless fry oil filtration, minimizing the manual labor associated with conventional fry oil filtration methods.
Durable Construction: Made from hard-wearing materials, this filter machine is ready to tackle the challenges of a professional kitchen, guaranteeing prolonged reliability.
Discard Trolley: A handy discard trolley accompanies the machine, facilitating the safe and efficient disposal of exhausted frying oil.
User-Friendly Design: The MirOil BD505 55 lb Electric Fryer Oil Filter Machine comes with a user-friendly design, enabling staff to operate it with ease and attend to other vital duties.
Versatile Application: Compatible with a range of fryer models, from countertop to floor-based units, this frying oil filter machine offers flexibility for varied kitchen configurations.
Made in the USA: Premium quality fryer oil filtration at your fingertips, proudly made in the USA.
Benefits and Uses:
Extends Oil Duration: The MirOil BD505 55 lb Electric Fryer Oil Filter Machine efficiently eliminates impurities, enhancing the lifespan of your frying oil, cutting down on oil replacements, and lowering expenses.
Consistent Food Quality: Purified oil ensures enhanced and consistent flavor in food items.
Time and Labor Savings: The electric-powered pump and user-friendly design make the filtration process quicker and easier, saving valuable staff time.
Environmentally Responsible: Responsible oil filtering and handling promote an environmentally sustainable, economical operation by minimizing waste and conserving oil.
Experience enhanced taste: pristine oil for impeccable fried treats!

Discover Perfect Frying with the MirOil Fryer Oil Filter Machine and Discard Trolley!
Are manual fryer oil filtration methods leaving you with messy spills and inconsistent flavors? Want to boost the quality of your fried dishes and reduce both time and costs of oil changes? Your search ends here! Presenting the MirOil BD505 55 lb Electric Fryer Oil Filter Machine with Discard Trolley – the gold standard in preserving clean, efficient, and tasty frying oil!
Proudly Made in the USA: Quality You Can Trust
Feel the superior quality and unmatched efficacy of our Electric Fryer Oil Filter Machine, born and built in the USA. The MirOil Fryer Oil Filter Machine is crafted with precision to withstand the high standards of professional kitchens, making it the go-to choice for chefs and culinary experts globally.
Efficient Filtration for unparalleled performance
Wave goodbye to mediocre flavors and welcome culinary brilliance! The MirOil BD505 55 lb Electric Fryer Oil Filter Machine utilizes state-of-the-art fry oil filtration mechanics to sieve out even the smallest of contaminants from your fryer oil. This promises a prolonged oil lifespan, enriched taste, and consistent excellence with every fry. Take your dishes a notch higher and delight your patrons with unmatched culinary experiences.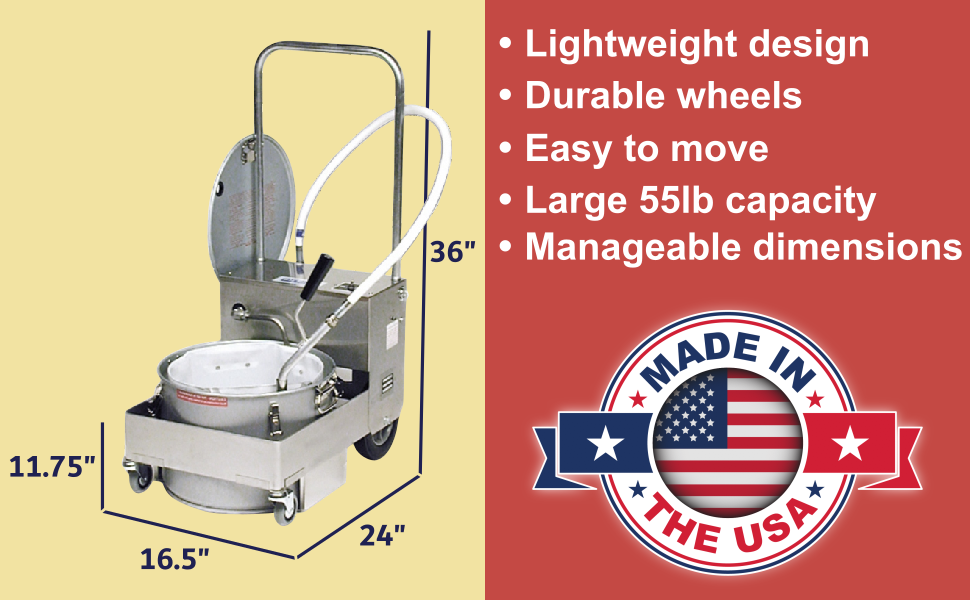 The professional's choice for high-volume frying
High-Capacity, Low Effort
With its impressive oil capacity, the MirOil BD505 55 lb Electric Fryer Oil Filter Machine is a workhorse that effortlessly handles high-volume frying operations. Gone are the days of tedious manual filtration – our electric pump simplifies the process, conserving crucial time and lessening staff exhaustion. Enhance efficiency and concentrate on creating exceptional dishes, as the MirOil Filter Machine adeptly manages your oil requirements.
Easy to Use, Easy to Love
Designed with simplicity in mind, the MirOil BD505 55 lb Electric Fryer Oil Filter Machine is a breeze to operate. Its intuitive, user-friendly design guarantees swift mastery by your staff, even amidst peak periods. Enjoy intuitive controls, smooth operation, and seamless filtration with just a few simple steps. Enable your team to focus on their prime task – crafting delectable dishes for your delighted customers.
Bid farewell to hand filtering: Let the electric filter machine handle the task effortlessly!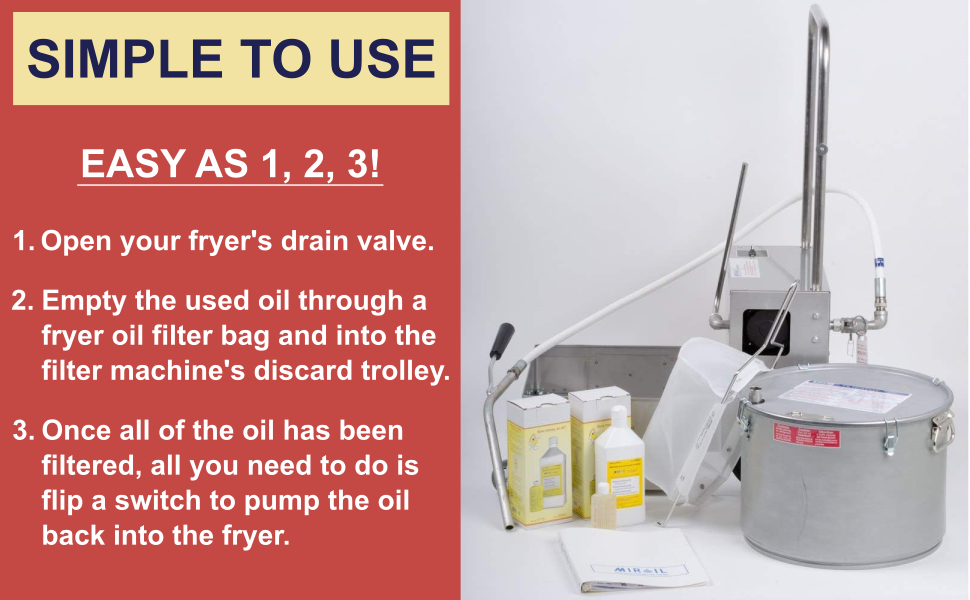 Waste less and save more: extend your oil life with MirOil fry oil filter machines
Mess-Free Oil Disposal with the Integrated Discard Trolley for
We recognize the importance of safety and hygiene in every professional culinary setting. Hence, the MirOil BD505 55 lb Electric Fryer Oil Filter Machine includes a built-in discard trolley, providing a sanitary and effortless solution for disposing of spent fryer oil. Eliminate the hassles of spills and untidiness during oil transfer – just roll the trolley to your designated oil disposal spot and effortlessly get rid of the used oil.
A Versatile and Adaptable Kitchen Companion
Whether you're working with countertop fryers or floor-standing fryers, the MirOil BD505 55 lb Electric Fryer Oil Filter Machine adapts seamlessly. With a design tailored to various fryer models, it's an essential fit for diverse commercial kitchen configurations. Enjoy the luxury of a universal oil filter machine crafted to address your specific operational needs.
Sustainable and Eco-Conscious Oil Management
Adopt environmentally-friendly habits and minimize waste using the MirOil Fryer Oil Filter Machine. By prolonging the usability of your frying oil, you decrease costs from regular replacements while also fostering a more sustainable environment. Drive a meaningful change in both your business and the environment through responsible frying oil management with the MirOil Fryer Oil Filter Machine.
Consistent results equal happy customers: harness the power of clean, fresh oil!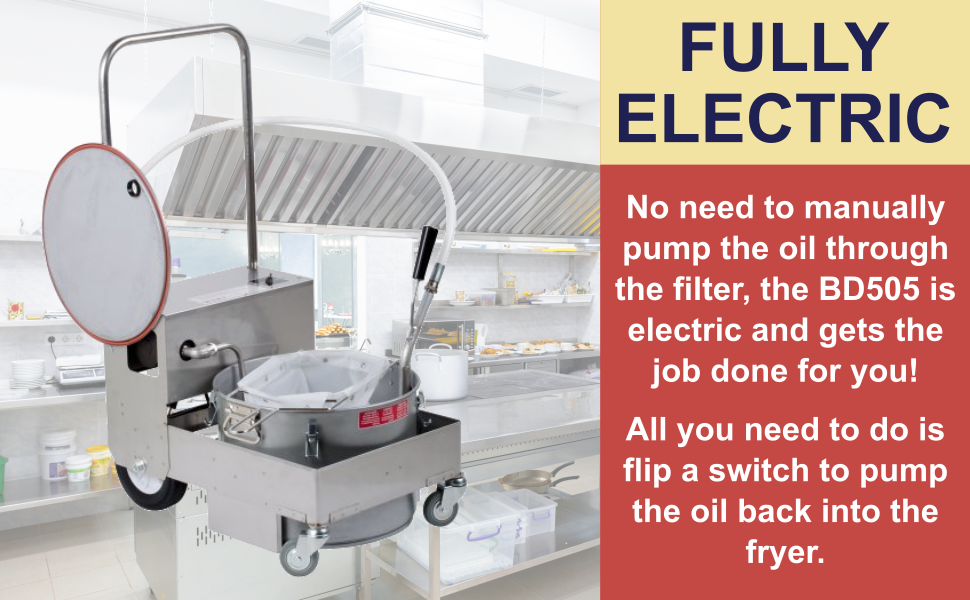 Built to Last – performance guaranteed
We stand by the excellence and resilience of our products. If you face any challenges or need support, our committed customer service team is on standby to offer swift and dependable assistance.
Experience the MirOil Difference!
Elevate your frying processes with the MirOil BD505 55 lb Electric Fryer Oil Filter Machine and Discard Trolley. Align with leading culinary experts who trust MirOil for superior taste, effective oil handling, and unmatched functionality. Commit to your kitchen's excellence and serve your patrons the most memorable fried delights they've ever tasted.
Make the smart choice with the MirOil BD505 55 lb Electric Fryer Oil Filter Machine and Discard Trolley. It's time to fry like a pro and taste the difference!
Use the comparison chart below to determine which MirOil filter machine fits your requirements: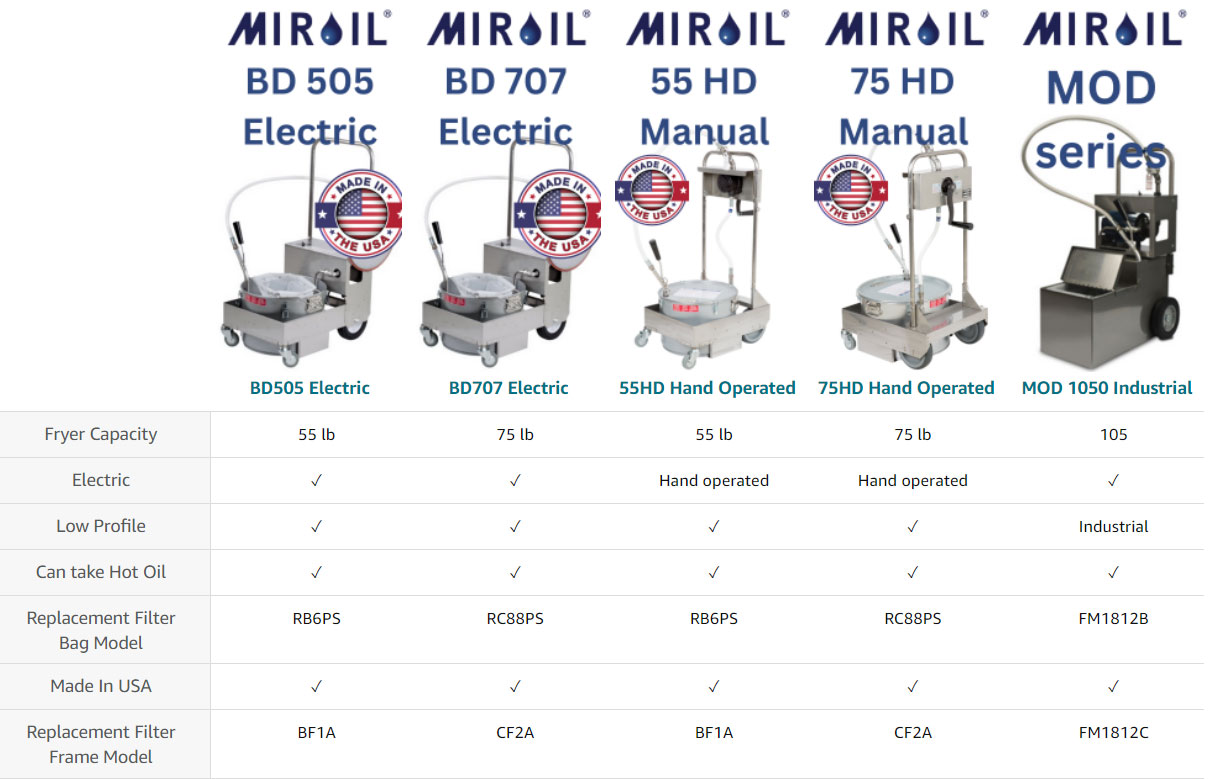 The MirOil difference – protect your fry oil quality and performance with products for better frying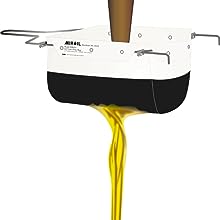 MirOil Reusable Frying Oil Filter Bags
Reusable Frying Oil Filters for Fry Oil Filtering without a filter machine
Better performance and cheaper than paper cone filters
Filter as many as 1000 fryers with a single filter bag
Better: Captures micron size particles, Does not leach chemicals into oil
Faster: Much more filter area for oil flow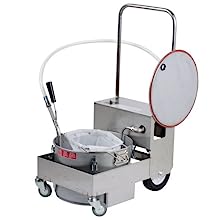 Fry Oil Filter Machines and Discard Trolleys
Electrical and Hand operated Oil Filter Machines
Made in USA since 1973
Heavy duty electric pumps
High mobility trolley for safe transport of hot oil
Rugged, coated steel oil pan
High performance EZ Flow Filters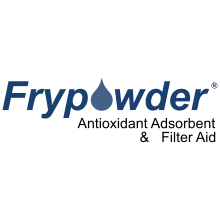 FryPowder Frying Oil Antioxidant and Filter Aid
Oil Stabilizer when you fry, Filter aid when you filter
Enhance the performance of all cooking oils
Your food will taste better, look better and cook faster
Because the food will absorb less oil, you will use less oil
FryPowder delivers an antioxidant effect that acts like a "vitamin" to prevent oil breakdown reactions while frying
FryPowder is a unique adsorbant that agglomerates gums and prevents carbon deposits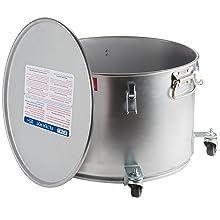 MirOil Oil Storage Caddys, Pots and Pails
High Quality Steel Oil Filtering and Storage Pots
Made in USA
Ideal for Food Trucks, Restaurants, Hotels, Concession Stands
Low profile pots mean that they will fit under fryer drain valves
There are no reviews yet.
You may also be interested in…
Recommended fry oil quality test kits...